Don't believe me? Well, let's see what some executives recently had to say about this…
"The consumer is very fickle today." – Bill Johnson – Chairman, President and CEO – HJ Heinz (Ticker HNZ) – Q2 2011 Earnings Call
"…we've been through this enough for the last three or four years to know that the consumer is pretty fickle." – Joe Redling – Chairman & CEO Nutrisystem (Ticker – NTRI) – Q4 2011 Earnings Call
"Well, I mean that's a hard one to answer because it's all dependent upon the fickle consumer." – Keith D. Nosbusch – Chairman, Chief Executive Officer and President– Rockwell Automation (Ticker – ROK) – Q4 2011 Earnings Call
"SUPERVALU's category management services help our grocer customers address fierce competition and fickle consumers by enhancing existing merchandising practices…" – Supervalu Company Website
___________________________________________________________________________________
The definition of Fickle from the Merriam-Webster dictionary:
"Marked by lack of steadfastness, constancy, or stability: given to erratic changeableness."
The best (sarcasm) part of Webster's definition is the first example they provide of the word in use:
"He blames poor sales on fickle consumers."
___________________________________________________________________________________
UGH!
It absolutely drives me nuts when I hear anyone – especially executives – calling their customers fickle! Repeat after me – customers are not fickle!
Just because you don't understand how and why your customers make the decisions they make, it doesn't make them fickle! Just because your own definition of "steadfastness, constancy or stability" doesn't align with how your customers appear to be behaving now, it doesn't mean they're fickle! If your customers are not buying as much from you as you had hoped, or perhaps even worse, no longer buying from you, doesn't mean they are fickle! Your uncertainty about how your business is going to be performing in the next quarter doesn't mean that you've got fickle customers to blame for that. You cannot blame your customers for the choices and decisions they make. Blame your competition, blame the market, or better yet, blame yourself; but don't call your customers fickle!
Whether you actually believe that your customers are fickle or not (hopefully you really don't believe this), your calling them fickle also sends a really dangerous message to the rest of your organization. Soon, others in your firm might believe that they do not need to appreciate or respect your customers – because "they're fickle, so what the heck do they really know anyway. If they're not buying from us, it's their problem, not ours." The problem is, it actually is your problem because if they're not buying from you, your business suffers! You owe your livelihood to them, so this makes them very VALUABLE to your organization and its future! Repeat after me – customers are valuable!
I've spent the better part of twenty years studying consumers and their behaviors, and let me tell you this – consumers are smart – really really smart! I'm continually amazed and humbled by just how smart consumers really are. I'm amazed by how good they are at being consumers. Today's consumers are also resourceful, discerning, and very very savvy. There are legitimate reasons behind the choices consumers make – sometimes that is a highly rational and predictable reason, and other times it is more of an emotionally driven, less predictable (impulsive) reason. Sometimes we don't always understand or even agree with the choices consumers make, but that doesn't mean they don't have a reason for it.
I feel the reason so many executives, and business owners call their customers fickle (besides a momentary lapse of judgment) is because the game has changed – and they still haven't fully come to terms with this fact or what it actually means to them and their business. The game hasn't changed temporarily; it has changed forever and we need to accept the fact that there is no such thing as things returning to normal.
The consumer game has changed in at least two fundamental ways that we all need to be aware of.
1) Market power has shifted away from businesses to the consumer, due to radical decreases in the costs associated with information and geography.
2) The great recession has fundamentally changed the consumer mindset and has resulted in a "new normal" in consumer behavior.
The world is flat again: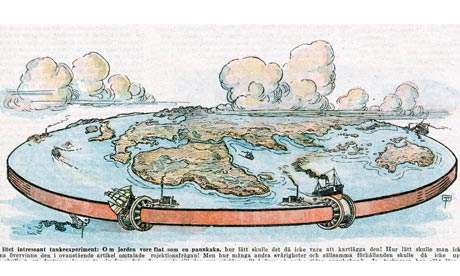 Choices are abundant and the consumer can obtain information more easily today relative to any prior point in time in history. Thanks to the internet, mobile devices and social networks, the costs associated with information and geography are rapidly racing to zero – and this simply is not going to change back to the way it used to be. This is the new consumer era of "now." If consumers want to know whether or not you're they're getting a good deal on an item you're selling or a service you're providing, all they have to do is google it to see what your competition is selling it for – while they're in your store!
The same technologies that have eliminated information costs have also increased the consumer's ability to access alternatives for what it is that you provide. Like it or not, your competition is no longer just the other stores or businesses within the four or ten mile trading area. Your competition is now every other place in the world that is also selling what you are selling. Today's "now era" consumer has access to anywhere in the world with only a click or two on their smart phone. The power has truly shifted away from business to the technology-armed consumer.
A new normal:
The great recession has profoundly changed the consumer, and it is highly unlikely that they will return to the behaviors and patterns of yesteryear. Many experts feel there is now a "new consumer normal" that is very different from what we had experienced in the past. In a recent Forbes.com article, Pam Goodfellow from BigInsight asserts that "the clear turning post for consumer behavior during the last decade came with the 'Great Recession.' Shoppers went from 'spend now, worry later' to an 'abort spending, worry, worry, worry' mindset." The folks from the Future's Company additionally provide their own perspective about this era of the new normal. "Consumers everywhere … are working from a new orientation about what they want and how they buy… [They] are now battle hardened, having found ways to survive and even thrive on the new opportunities a more competitive market has yielded."
I think nearly all of us can relate to this "new normal" consumer mindset on some personal level. Who hasn't had to make adjustments in their consumption over the past several years? If so many of us have had to make our own (sometimes pretty significant) adjustments, why aren't we seeing more significant changes in how many existing businesses go to market?
There are a number of great books that provide valuable insightful about this phenomenon (e.g., Leading The Revolution by Gary Hamel, The Reinventors by Jason Jennings, Brand Relevance by David Aaker and Ten Rules for Strategic Innovators by Govindarajan and Trimble) to name a few that I highly recommend. And while these books address a range of topics with fabulous expertise, you can essentially boil their key underlying insights to the following two things.
1) Deeply understand you customer's needs, and
2) Continually innovate.
I'll leave the "how" to do these things for another time – or alternatively I'd encourage you to read these great texts. But I'd like to spend the rest of this article discussing why it is so important for you and your organization to do these two things.
If you are currently making a profit (any profit), there is someone out there devising a way to take some, or all of it from you!
That is perhaps one of the greatest economic certainties of all – and in fact, this is likely happening to you and your organization right now. We all need to face the fact that success is no longer guaranteed for those simply committed to "getting better" at what they know how to do. Twenty and thirty years ago, process improvement and cost containment could make one a titan within their industry. Those days are pretty much gone for good; much in the same way that today's consumer will never be the same as yesterday's consumer.
Today, the only way to ensure your future success, as stated previously, is to deeply understanding your customer (and their needs), and by becoming more relevant to today's, and tomorrow's consumer through continuous innovation. That means you need to be changing (innovating) at a pace that is at least a half-a-step ahead of your market's rate of change. If you aren't trying to do this, you can be sure that someone else is.
No – businesses are not "entitled" to anything in this era of the new normal. They never really were; but the market conditions prior to the internet revolution, and the great recession often made managers feel like this was the case. The market is truly relentless and it has absolutely no concern about your future existence. You can be sure that your competition will be delighted by your demise. But, how would your customers feel if your business went away?
Still thinking?
I love this question and it is actually one I ask regularly. How would your customers feel if one day they woke up and you were no longer in business? If their needs are being better met by competitors who are perceived to be more relevant, they likely won't care if you are still around or not. Unless that is, that you provide them a reason to care. And, how do you do that? Everyone say it with me now (in four part harmony)…
1) Deeply understand you customer's needs, and
2) Continually innovate.
If you commit to doing – and actually do – these two things, you will find that you will be able to separate yourself from the pack and enjoy profitable growth – that is until the next young pup comes along to steal the ball you've been playing with.
image credits: "confusted' – mbd2.com; "Flat Earth" – static.guim.co.uk
Don't miss an article (4,700+) – Subscribe to our RSS feed and join our Innovation Excellence group!
---
Bradley (Woody) Bendle is Director, Insights & Innovation at 
Collective Brands, Inc.
and formerly a VP of Marketing, Customer Analytics & Strategic Systems at Blockbuster, and a consulting economist. His focus areas are: Brand & Market Strategy, Product & Service Innovation, Consumer Behavior, Quantitative & Qualitative Research Methods, and Applied Econometrics. (twitter –
@wbendle
)